Pharmaceutical Ampoule Washing Sterilizing Filling Sealing Production Line
Description of Ampule Filling Line
Technical Features of Ampule Filling Line
Technical Parameter
Pharmaceutical ampoule washing sterilizing filling sealing production line is mainly used for washing, sterilizing, filling and sealing ampoules ranging from 1-20ml in pharmaceutical industries under aseptic conditions. The fully automatic ampoule filling machine can be equipped with 4-16 filling nozzles according to customer's capacities, fully complying with GMP standard.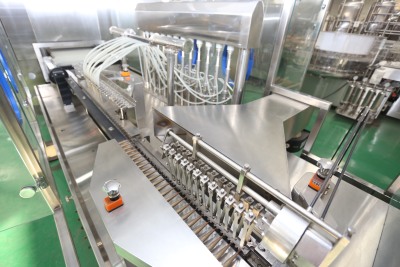 According to customer's requirements, Marya ampoule filling sealing production line can also be equipped with following functions and parts:
1.Control System of famous brands like Siemens, Schneider, Mitsubishi, Delta, etc;
2.oRABS, cRABS, Aseptic Isolator System to avoid contaminations;
3.Class A laminar flow, Airborne particle counters, Airborne microbe online sampling device;
4.Wind speed on-line monitoring, Sterile operation Gloves;
5.Date saving functions.
Product model

MY-2

MY-4

MY-6

MY-8

MY-10

MY-12

MY-16

MY-20

Suitable size(ml)

2-30ml ampoule bottle

Output(pcs/min)

20-60

40-120

60-200

100-250

120-300

150-400

200-500

280-600

Filling heads

2

4

6

8

10

12

16

20

Power supply

380V 50HZ

Power capacity(KW)

79

79

90

92

108

108

115

132

Total weight(kg)

8500

8500

8800

9300

9900

10200

10800

11800

Overall diemensions(mm)

9050*2200*2450

9050*2200*2450

9700*2200*2450

9700*2200*2450

1080*2200*2450

1080*2200*2450

1170*2200*2450

1170*2200*2450