Automatic Glass Ampoule Washing Sterilizing Filling Sealing Production Line
Main Application
Performance Features
The automatic glass ampoule washing sterilizing filling sealing production line is composed of ultrasonic bottle washing machine, dryer sterilizer and ampoule filling and sealing machine. It can complete spraying water, ultrasonic cleaning, air & water flushing of inner and outer wall of ampoule bottle, preheating, drying and sterilization, heat source removing, cooling, (nitrogen pre-filling), filling, (nitrogen post-filling), ampoule sealing and other complex functions, realizing automatic production of the whole process. Each machine can be used separately or in linkage line. The whole ampoule filling line is mainly used for ampoule injections filling in pharmaceutical factories and the general type can also be used for antibiotic vial injection filling.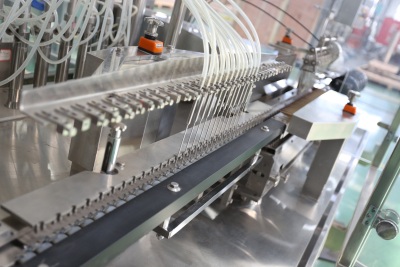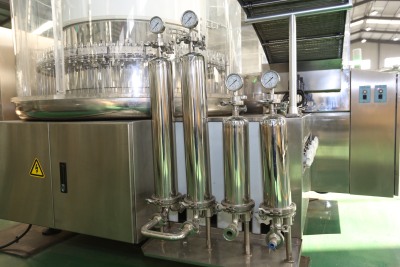 1. The whole automatic glass ampoule filling sealing production line meets new GMP requirements, and the cleaning effect meets the new Pharmacopoeia standards and requirements;
2. The whole ampoule filling and sealing line can adopt straight-line layout or wall-to-wall L-shaped layout to reduce risk of cross-contamination and ensure aseptic level;
3. Applicable specification: 1ml-20ml ampoule (as per user's requiremen;
4. Production Capacity: 12000-36000BPH;
5. Number of ampoule filling head: 2-20, to be selected according to output;
6. Filling Accuracy: ≤ ±1% (according to drug characteristics);
7. Choice of various filling pumps: glass pump, metal pump, peristaltic pump, ceramic pump;
8. Compact and simple structure, occupies less area;
9. Ampoule liquid filling sealing production line machine has stable product performance, easy and reliable operation, beautiful appearance;
10. High degree of automation, fewer operators required;
11. Various sealing gas supply methods such as natural gas or hydrogen and oxygen gas;
12. Optional real-time display and printing system of sterilization temperature;
13. The maximum sterilization temperature of hot air circulation tunnel oven is 350℃;
14. The heat in the hot air circulation tunnel oven is evenly distributed, and the heat resources removal effect is good;
15. Optional open-RABS isolation protection system and class 100 laminar flow hood protection;
16. Optional high-performance no-bottle-no-filling function and squeeze stop function;
17. The ampoule filling machine can be equipped with online monitoring system to monitor key factors that affect product quality
(such as dust particles, planktonic bacteria, wind speed, wind pressure, etc.);
18. Full-line linkage control and operation function;
19. To realize fully automatic control and monitor of production process, high precision colored touch screen operation monitoring, PLC automatic control & automatic protection, main machine frequency conversion speed regulation and other control technology are used;
20. Applicable for wide range of bottle specifications, and easy to replace mould;
21. Can be customized according to customer's actual demand.