Automatic Glass Vial Washing Sterilizing Filling Stoppering Capping Production Line
Main Applications
Introduction of Vial Filling Line
Performance
The vial liquid filling line is composed of ultrasonic vial washing machine, dryer sterilizer, vial injectable filling machine, vial stoppering machine and vial capping machine. It can complete spraying water, ultrasonic cleaning, flushing of inner and outer wall of bottle, preheating, drying and sterilization, heat source removing, cooling, bottle unscrambling, (nitrogen pre-filling), filling, (nitrogen post-filling), stopper unscrambling, stopper pressing, cap unscrambling, capping and other complex functions, realizing automatic production of the whole process. Each machine can be used separately, or in linkage line. The whole line is mainly used for filling of vial liquid injections and freeze-dried powder injections in pharmaceutical factories, it can also be applied to production of antibiotics, bio-pharmaceuticals, chemical pharmaceuticals, blood products etc.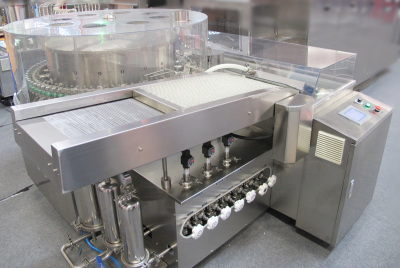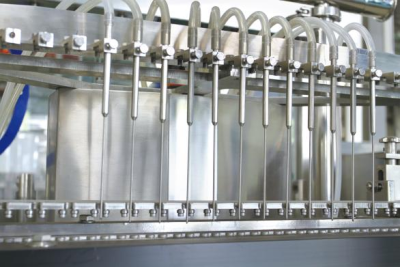 1. Ultrasonic Bottle Vial Washing Machine
Automatic bottle washing machine mainly uses to ampoules, vials and oral liquid bottles. The vial washing machine's application is wide, and easy to change standard components. Ultrasonic cleaning, circulating water, WFI, compressed air jet, etc. to clean the inside and outside of the bottle many times, preventing cross-contamination. Circulation water can recycle and filter alone, save the energy and cost. This vial washing machine can be used separately or in linkage line.
This vial sterilizing drying tunnel oven adopts integrated tunnel drying and sterilizing structure, and consist of preheating zone, high temperature sterilizing zone, cooling zone(air cooling or water cooling+online sterilization technology), conveying belt and electric controlling parts. High temperaturer zone adopts hot air circulation heating method, and the bottle is sterilized at 350 degree and heat source removed after bottle washing, with even temperature and energy saving. The heat in the hot air circulation tunnel oven is evenly distributed, and the heat resources removal effect is good; Optional real-time display and printing system of sterilization temperature;
The vial filling and stoppering machine is used for filling liquid drugs in pharmaceutical factory. The nitrogen filling and fully stoppering/partially stoppering (press-stoppering) process are completed in the same machine. The vial filling stoppering machine can complete the filling, nitrogen filling, stoppering, pressure stoppering and other procedures. Where the drug contact parts are made of 316L stainless steel or GMP compliant plastic parts, preventing pollution. The filling pump adopts ceramic (peristaltic pump) for filling. Also can choose other filling pumps: glass pump, metal pump, peristaltic pump, ceramic pump. The vial filling machine adopts frequency converter to adjust, simple operation, high degree of automation, and can be configured with automatic counting display device.
4. Vial Capping Machine
The vial capping machine is suitable for capping production after filling and stoppering of vials. And it is also suitable for the capping of antibiotic aluminum cover and aluminum plastic cover. The whole capping machine runs steadily, compression roller cover adopts single-knife or three-knife rolling cover, easy pressure adjustment. The RABS isolation system is used to ensure a clean environment for the whole capping machine and avoid drug pollution. Abnormal conditions are handled with isolation gloves, and instruments such as a glove integrity tester can be configured. This vial capping machine can be equipped with dust exhaust device, which can absorb aluminum scraps produced during capping and thus reduce the risk of environmental pollution.
| | |
| --- | --- |
| Applicable specification | 1ml-100ml vial (as per user's requirement) |
| Production Capacity | 1000-36000BPH |
| Number of filling head | 1-20, to be selected according to the output |
| Filling Accuracy | ≤±1% (according to drug characteristics) |
| Capping qualified rate | ≥99.9% |